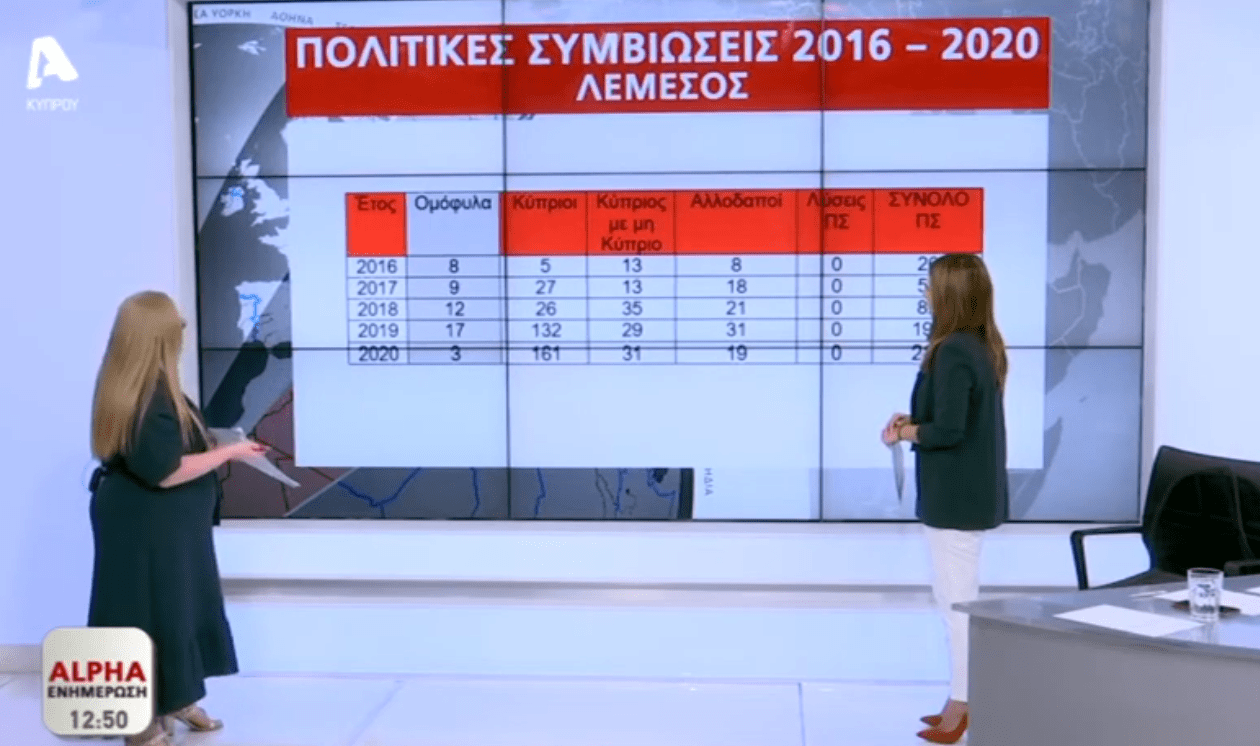 On Tuesday, September 29th, I watched on Alpha Enimerosi programme (Alpha Cyprus TV channel) the highly enlightening discussion of journalist Katia Savva with the Administrative Officer of the Civil Registry and Migration Department (CRMD), Skevi Voskaridou.
We have been working with Skevi for a number of years on issues concerning not only the Civil Union Law, but, above all, the problems faced by trans people in the processing and recording of their data by the CRMD. I very much appreciate her contribution in this area, even though on a number of occasions we had to analyse problems in depth in order for the Department to see the important role it plays in interpreting laws in a friendly manner and in a spirit of dealing with the real problems of the individuals concerned.
According to the data reported by Skevi, since the Civil Union Law was implemented in 2015, we have had 1673 Civil Unions in Cyprus. Of these, only a small percentage, not more than 10%, took place among same-sex couples. 
During the interview not all the data from all cities were thoroughly covered, perhaps a sign of how the records are kept by the respective District Administrations. 
What is now obvious to me is that the fears, and often the extreme positions, heard in the House of Parliament during the debate of the Civil Union Bill have not been confirmed at all. The extremity of such positions was something I had to repeat several times during the discussions with several Members, journalists, but also quite a few people in the general public. It is also clear that fears and populism must be weighed and contrasted with the real problems we face and not the speculations and fears. 
At the same time, the problem that arises in smaller cities is that same-sex couples, who want to maintain secrecy about their sexual orientation, avoid signing a Civil Union. This is mainly due to the worry that their names will be made known to District Administration's staff and from there they could be made known by friends or people in their family environment who are unaware of their situation due to society pressure. 
I will disagree with my friend Skevi regarding problems mentioned in the discussion. They exist, even more than mentioned, and the process of resolving them is often long-lasting. Couples who have been married abroad do not get their marriage to be be recognized in Cyprus. The option, which I hear for the first time, to give permission to a married couple to proceed to a Civil Union again in Cyprus with special permission, is not a solution. If a married couple abroad has 10 years of marriage, asking them to proceed to a Civil Union today in Cyprus, effective as of today, will create many legal problems, especially if the couple later decides to divorce. 
I have asked the CRMD to provide me with the completed data so that we can now speak with facts when we refer to the Civil Union. I will also inform the Department of Public Administration and Personnel of the need for further training of staff in matters of Civil Union. 
Were you given incorrect information regarding the rights of the Civil Union in relation to Civil Marriage? Have you encountered problems with services or officers in this regard? 
Send me a message here or on info@gavrielides.com.