Round Table Discussion -
Thematic Review on Legal Gender Recognition in Cyprus
15 October 2021
House of Representatives, Philoxenia Conference Center, Kyrenia Hall
Time: 08.30
The discussion is co-organized by:
Council of Europe, SOGI Unit
Law Commissioner, Louiza Zannetou
Advisor to the President of the Republic of Cyprus on issues of Multiculturalism, Acceptance and Respect for Diversity, Costa Gavrielides
Under the auspices of the
President of the House of Representatives of the Republic of Cyprus, Annita Demetriou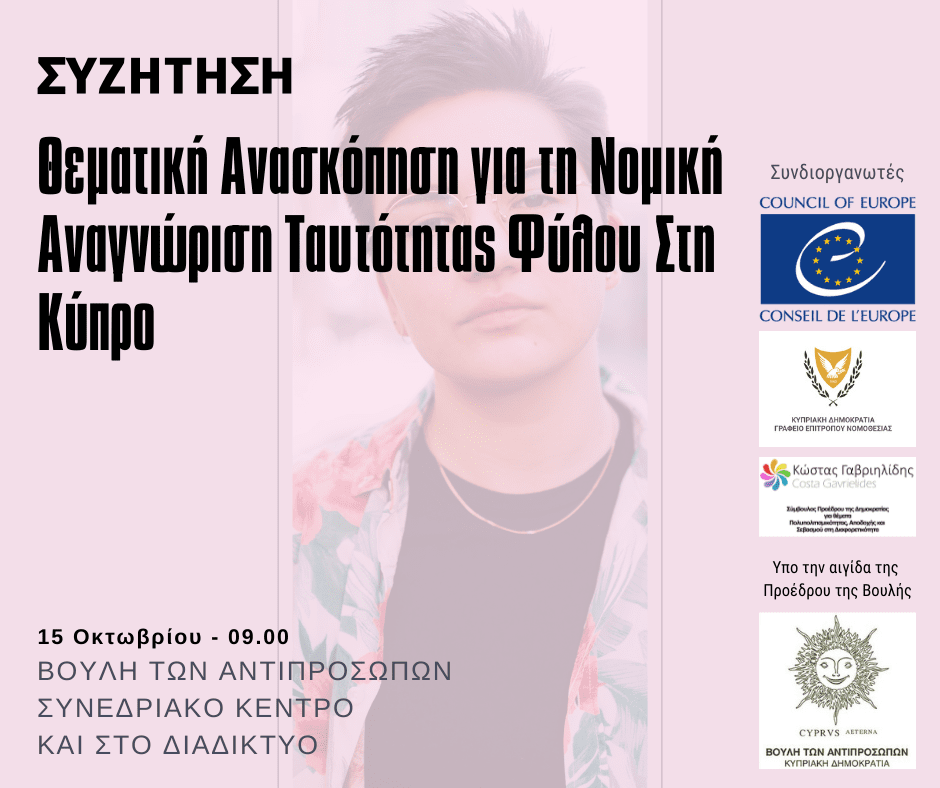 We have the pleasure of inviting you to a national roundtable on the 15th of October at 08.30 to discuss the legal and practical situation of trans and intersex people with regard to legal gender recognition in Cyprus that will be taking place at the Parliament and will also be streamed online.

This roundtable is a Council of Europe action to provide a thematic analysis of the implementation of the Council of Europe Recommendation CM/Rec(2010)5 of the Committee of Ministers to member states on measures to combat discrimination based on sexual orientation or gender identity.
The objective is to provide support to ongoing efforts and to advance dialogue at national level on issues deemed important for the advancement of the human rights of LGBTI persons. This year's analysis focuses on legal gender recognition and involves Cyprus, Spain, Lithuania, and North Macedonia who voluntarily engage in a dialogue aimed at making progress on this topic. 
First, this round of consultations will provide a space to discuss the current guidelines allowing people to change their legal documents in Cyprus and identify ways to make progress on the goals of Recommendation (2010)5. Second, it will examine the proposed draft bill on legal gender recognition and open the space for feedback with the participation and engagement of a broad range of stakeholders, including civil society. Third, it will open further avenues for cooperation and set an agenda for reforms that could be jointly agreed by public authorities and civil society.
To this end, the Council of Europe has commissioned a preliminary analysis of the situation of legal gender recognition in Cyprus. This will be sent to all the registrars before the event, and we invite you to submit any comments, observations, and clarifications you may have (in particular on the factual situation of the issues addressed in the report) either prior to discussion, during it, or even after.
The comments you provide, the views expressed in the consultations and your recommendations will be of great use in strengthening the analysis and helping key stakeholders in understanding the process needed for Legal Gender Recognition in Cyprus. In addition, the report and the recommendations resulting from this round of consultations will help to identify trends and good practices. These will feed into a thematic report at the level of the Council of Europe. Thus, it is expected that the process will lead to further exchanges of experience and inspire positive reforms among the 47 Council of Europe member states.
We look forward to your participation. Please note that the event will be in Greek with live English translations.
Eleni Tsetsekou, Head of SOGI Unit, Council of Europe
Louiza Christodoulidou-Zannetou, Law Commissioner 
Costa Gavrielides 
Advisor to the President of the Republic of Cyprus on issues of Multiculturalism, Acceptance and Respect for Diversity
Program
           08.30 Arrival – Registration
09.00 Welcoming Remarks 
Annita Demetriou,President of the House of Representatives
Eleni Tsetsekou,Head of the SOGI Unit, Council of Europe
09.30 Growing up in Cyprus as a trans person
Al Davidian, Trans Activist
09.45 Trans children in the Cypriot family
Agathi Charalambous, Member of the Trans Parents Group
10.00 The Current Guidelines for the Amendment of Personal Documents by the Civil Registry and Migration Department
Skevi Voskaridou, Administrative Officer of the Civil Registry and Migration Department, Ministry of Interior
10.10 Draft of the National thematic review on Legal Gender Recognition in Cyprus of the Recommendation CM/Rec(2010)5 of the Committee of Ministers to member states on measures to combat discrimination on grounds of sexual orientation or gender identity of the Council of Europe
Costas Gavrielides,Advisor to the President of the Republic of Cyprus on issues of Multiculturalism, Acceptance and Respect for Diversity, National Expert of CoE
Georgia Charalambous, PhD Candidate, University of Nicosia, National Expert of CoE
10.45 Social and Psychological needs of trans people in Cyprus
Professor Constantinos N. Phellas,Senior Vice Rector, University of Nicosia, President of the National Bioethics Committee of Cyprus, National Expert of the CoE
11.00 Break - Coffee
11.30 The Legal Gender Recognition in the European Law of Human Rights
Dr. Aris Konstantinidis,Associate Professor of International Law and Human Rights Law, National Expert of the CoE
11.45 The Legal Gender Recognition Policies in European Countries
Dr. Cianán Russell,Senior Policy Officer, ILGA-Europe, Brussels
12.00 Presentation of the Draft Bill on Legal Gender Recognition
Louiza Christodoulidou-Zannetou, Law Commissioner
12.20 The Gender Identity, Gender Expression and Sex Characteristics Act Of the Republic of Malta
Gabi Calleja, Head of SOGIGESC Unit at the Human Rights Directorate, Ministry for Equality, Research and Innovation, Republic of Malta
12.40 Discussion
Ways to Improve the Legislative Framework and Finalise the draft Bill of the Legal Gender Recognition
Moderator:Georgia Charalambous
13.45 Recap – Summary of Key Points of Agreement and Areas for Further Discussion
Concluding Remarks
Costa Gavrielides
            14.00 End - Buffet